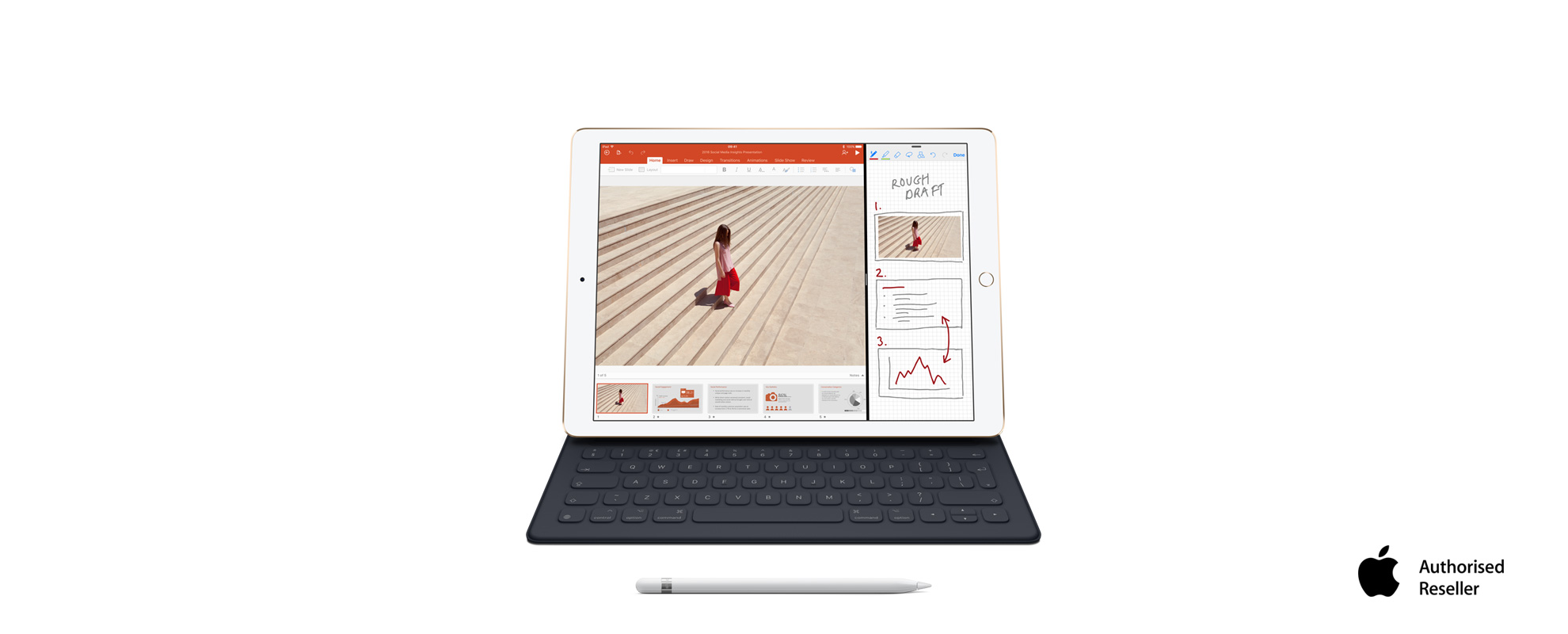 Power your productivity with iPad, your versatile business partner
With a thin, light design, beautiful Retina display, powerful chip with 64-bit desktop-class architecture, iOS 10, front and back cameras, up to 10 hours of battery life, and fast Wi-Fi and 4G LTE that allow you to stay connected wherever you are, iPad is a winning choice for business. And with amazing business apps available in the App Store, iPad can help transform the way you work.
Increased flexibility for staff through mobile working – the ability to use Office Applications on portable devices
Improved productivity through mobile working – staff can work on the train to meetings and at home
Attractive financial benefits as you can buy through the OPEX model
iPads retain their residual value better than other similar devices – reducing the need to refresh devices as frequently
Seamless integration – reduce the need for a complex deployment and management of multiple devices and operating systems
Reduce expenditure on end point protection software subscriptions as OS is less likely to be penetrated by viruses
Better security as data is held in the cloud
Our team of in-house specialists and technical consultants work together to provide Apple solutions for business. As an ISO 27001 accredited company, we pride ourselves on being able to support businesses in industries where compliancy and data security is key. We partner with Apple to deliver the best in technology – with security at the top of the agenda.
4 levels of protection and security
We understand that security is paramount for businesses which is why we recommend iPad. With four levels of security, you can be sure that your company is protected.
Device
iPad has passcodes, timeout periods and other features such as restrictions on app downloading.
Network
iPad incorporates the latest Wi-Fi security standards and integrates with a broad range of technologies.
Data
iPad has built-in hardware encryption which can be enabled by simply setting a passcode on the device.
Platform
This is great for security as any problems with one app won't disrupt or damage the others.
Will iPad work with what I already have?


iPad connects directly to enterprise mail servers like Microsoft Exchange and Lotus Domino via Exchange ActiveSync, providing users with push email, calendar events, and contacts.


What if my employee loses an iPad with corporate information?

An IT administrator can remotely lock or wipe an employee's iPad if it's lost or stolen.

Can I trust that the data on my iPad is safe?


iOS provides strong encryption for all data in transmission like iMessage, FaceTime, and Mail. It uses proven authentication methods for access to corporate services and hardware encryption for all data.

What if some of my employees already have an iPad?

With bring your own device (BYOD), employees who already have an iPad can connect to the company's system and access the same networking and security options. Many companies see productivity gains by capitalising on tools their employees already own.


How do I know that the apps I download are safe?

Developers must register with Apple and join the iOS Developer Program. Apple verifies the identity of each developer before issuing a certificate, so only legitimate developers can publish to the App Store. And all apps are reviewed by Apple to ensure that they work as described.

Can I view and edit Microsoft Office documents spreadsheets or presentations?

Yes. With iWork apps, customers can open, save, and email Microsoft Office files, and with iCloud, all those files stay up to date across Mac, PC, and iOS devices. And with iWork for iCloud beta, customers can edit a single document with their colleagues online in real time, eliminating the need for multiple copies of the same file. Using Office 365? Don't worry, this is available with iOS too.